Acquired ISO14001
Acquisition of ISO 14001
We acquired ISO14001 international standard Environmental Management System on September 2011.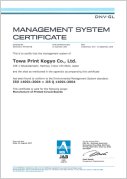 Resistered SONY Green Partner

We have obtained the SONY Green Partner certificationin September 2003.
We believe one of the most important challenges of the future of mankind is environmental protection.We act in consideration of environmental impacts.
Begin the system "My chopsticks"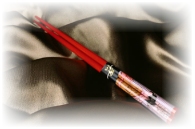 We stopped using disposable chopsticks in the restaurant and decided to use to bring our own chopsticks.
In the calculation, we need not consume 9.5 cedars during year.
We think that we can do feelings to environmental consideration by the entire employee starting with this system from the entire consumption of cedar though it might be a little.